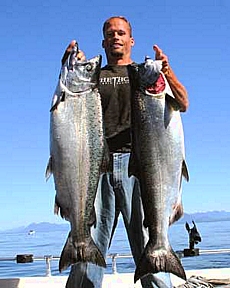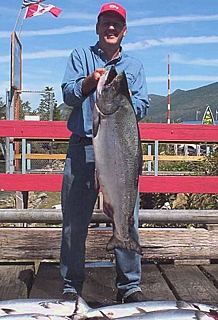 Port Alberni, the gateway to the Pacific Rim, offers anglers of all ages and abilities some of the best fishing anywhere in the world. From the strong summer and winter steelhead runs, to the hot bed of sockeye fishing, tyee and "Walter" class 45-plus-pound Chinooks and some incredible coho fishing, then throw in a few halibut and bottom fish and you have it all.
The Alberni Inlet has long been referred to as the Salmon Capital of the World and a world-class fishing destination. What may not be so commonly known, is that the wildlife and scenery are absolutely beautiful, and underneath it all lies a diver's paradise with a diver's marine eco-system. Combine this with great weather, and it has all the makings for the fishing experience of a lifetime.
Every Labour Day weekend thousands of fisherman and their families are looking for just that, (and the bragging rights) as they all converge on the Valley for our annual Port Alberni Salmon Festival, try it once and you'll be hooked. There is entertainment, food, daily hidden weight prizes and a fireworks show at dusk. For more information call 1-250-723-8165 (before or after event) and 1-250-724-5223 (during event).
Fishing in the Alberni Valley is a year round experience, you can roll from one season to another and have all varieties of angling opportunities right at your fingertips. Steelhead on the Stamp River is ever-strong thanks in part to the salmonid enhancement program at the Robertson Creek hatchery. A strong winter run, and a strong summer run, returns annually. Anglers that are still looking for more can always take advantage of some breathtaking views of Mt. Arrowsmith and any one of the many lakes that await them. ("Fly fishing anyone?")
For the novice angler, fully guided trips are readily available, and for the seasoned fisherman, check the tides and the water levels, bring your own boat and sail the seas, or drift the rivers.
Remember, keep your tip up, your lines tight, and your hooks sharp. Happy Fishing!!