Since 1960, BC Ferries has been providing travelers with ferry service to Vancouver Island and has grown into one of the largest and most sophisticated ferry systems in the world. Much more than a mode of transportation, BC Ferries offers you a spectacularly scenic experience that is as much a part of your Vancouver Island adventure as the breathtaking land and seascapes, charming communities, exhilarating outdoor activities, and wondrous attractions.
Although the majority of visitors to Vancouver Island arrive with BC Ferries, no matter how you get here, you won't want to miss the opportunity to enjoy the awe-inspiring beauty of British Columbia's coastal waterways on board a BC Ferry. Day trips to incredibly beautiful destinations, including the Gulf Islands, Alert Bay and Sointula, make traveling with BC Ferries even more enticing and easy, whether you board with your vehicle or as a foot passenger.
BC Ferries has 35 vessels in a wide range of sizes and classes serving up to 46 ports of call on 25 routes throughout coastal British Columbia. BC Ferries vessels carry vehicles and passengers, with the largest ships, namely the Spirit of British Columbia and the Spirit of Vancouver Island, measuring 560 feet in length – that's two football fields back to back! The Spirit Class vessels and the other large ships are used on the major routes between mainland British Columbia and Vancouver Island feature cafeteria service, gift shops, ship-to-shore telephones, hook-ups for laptop computers, video games, play areas for pre-schoolers, and elevators that make getting from one deck to another easier for those who have difficulty with stairs.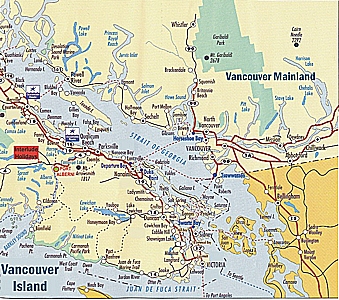 Click On Map Above To Enlarge Image